Change & Digital Transformation
Our specialist work as a data science recruitment agency in London involves matching skilled individuals with the companies, businesses, and firms that will best utilise their expertise. Alternatively, we can also assist these organisations with finding the top talent solutions that will allow their businesses to grow and develop as intended.
Learn more about how we can assist in the process of data science recruitment, both for individuals and organisations, below.
Data Science Jobs in London
We have positioned our Technology Division so it is able to work cross-sector within multiple Technological disciplines. Many of the roles available through our agency fall under the field of data science, and individuals who are able to fill these roles are highly sought-after by many of London's top firms, companies, and businesses. Positions that we may be expected to help fill by organisations, or that we may place talent within, include:
Business intelligence developer
Data analyst
Data engineer
Data scientist
Database administrator
Machine learning engineer
Machine learning scientist
Technology roles and sectors that we particularly pride ourselves on finding placements for include Development, Data and Analytics, Artificial Intelligence (AI), Robotics, and Cloud. Supplying talent in these has allowed us to forge strong relationships with some of the most prestigious companies, businesses, and organisations based in London's financial sector. This includes providing many short and long-term placements in many Tier 1 banks and FinTechs.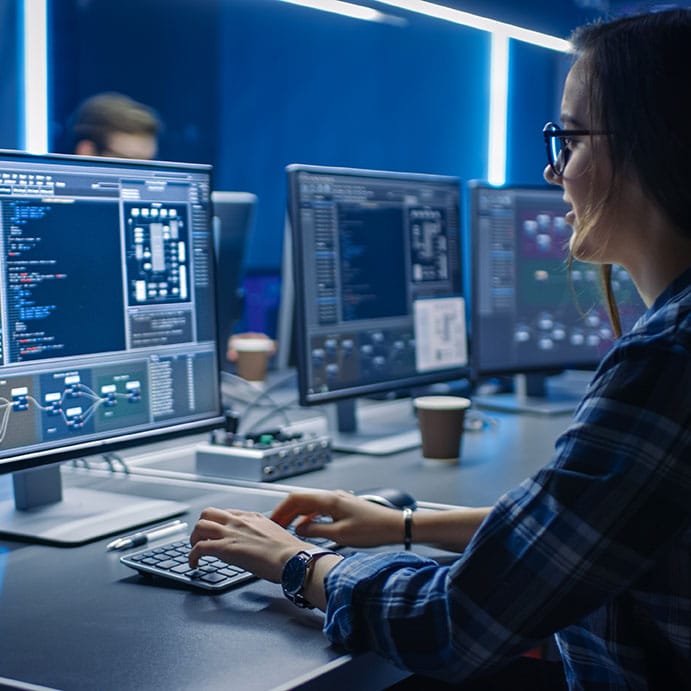 About Data Science Recruitment
As an interdisciplinary field, data science jobs cover a broad range of roles and responsibilities within a workplace. The work will often be collaborative, and individuals will normally be expected to carry out work such as identifying issues and proposing solutions, or building algorithms and designing experiments.
These will not be the only expectations however, and many employers will expect an employee to carry out an assortment of responsibilities relating to their specific field. Expectations may also change over time or as an employee moves into a senior role. For instance, senior data scientists may also be expected to recruit, train, and lead data science teams, evaluate new and emerging technologies, or represent their company at external events and conferences.
Required Qualifications
Typically, a candidate will be required to have a degree in computer science, mathematics, or another science-based subject to be considered for a role within data science. Subjects that are often prioritised include:
Computer science
Data science or computer and data science
Engineering
Mathematics
Mathematics and operational research
Physics
Statistics
Candidates will also be expected to know certain programming languages, such as R, Python, SQL, C, or Java. They should also, ideally, have strong database design and coding skills.
Postgraduate qualifications, such as Master's degrees or PhDs, will also be useful for many candidates. Many data scientists in particular will have one, and individuals looking to move into different careers or those who are interested in learning analysis skills will often require one.
Some employers will ask for a relevant Master's degree or PhD in subjects such as:
Big data
Business analytics
Data analytics
Data science
It is also possible that candidates with degrees in subjects such as business, economics, psychology, and health will be highly considered, if they have mathematical aptitude and basic programming experience.
The Necessary Skills
The skills necessary to be placed in a data science position can be split into hard skills and soft skills. The hard skills required include:
Business intelligence
Experience in database interrogation and analysis tools, such as Hadoop, SQL, and SAS
Good data analysis and problem-solving skills
The ability to learn new programming languages
The soft skills required include:
Adaptability
Business acumen
Critical thinking skills
Good communication skills
Connecting with Us to Find Talent
We believe that the core of any organisation is the people that it hires. This is why we have strategically positioned ourselves at the forefront of our industry, putting ourselves in a better position to work with like-minded individuals and organisations who think in the same manner. We aim to be the agency of choice for all London-based firms, companies, and businesses who operate on this belief, and who are looking for talent based on what any one individual can offer an organisation to transform it into the best version of itself.
If you are looking for this for your own organisation, connect with us on LinkedIn or contact our Managing Director Chris Jones. We can assist you in taking the next step forward in finding the right talent for your firm in London.
Whether you are talent searching for new opportunities and a new role to suit your needs, whilst also ensuring you are able to make full use of your skills, or even if you are a member of an organisation looking for top talent solutions in data science, Oakleaf Technology, Change, and Transformation can help. As one of the leading recruitment agencies based in London, we are more than confident that we can establish ideal working solutions for both the organisations searching the talent pool and those skilled professionals looking to take the next step forward.
By working with us, you will also be discovering that we are:
Eager networkers, with a wide network of companies, agencies, and individuals ready to connect to our clients
Solutions-focused, and fully committed to providing diversity in talent solutions – matching individuals to roles within data science
Talent spotters, with an aptitude for finding recruitment solutions within Development, Data, Analytics, AI, Robotics & Cloud
Experienced business advisors, with years' worth of knowledge and skill at applying advice for organisations, both in London and the wider UK in general
Both individuals and organisations looking to work with a specialist recruitment agency on their processes will also find that we provide:
Businesses with the opportunity and autonomy to build up as planned and intended
Access to both talent and clients across the PS/FS, Public Sector, and C&I
Support, skills, and market knowledge of a highly-respected recruitment company
No threshold commission
Above market rate basic salaries, alongside incentives and guarantees
Flexible working environments and arrangements which include hybrid working
Benefits including healthcare, tech, and the ability to buy more holiday time
Submit an Application
To begin applying for the opportunities in data science that you are most interested in in the capital, or to begin the search for new talent to fill Contract and Permanent roles in your firm, contact us or send us your CV today. We will be fully prepared to offer you the expert advice you need, alongside an unparalleled recruitment process, to ensure that you are matched with the position or talent that best suits your needs and the needs of your organisation.
Some of the clients we work with...