Tech Recruitment in London
Oakleaf Technology, Change, and Transformation specialises in the supply of Contract and Permanent talent solutions for the sectors of industry that we immerse ourselves in. Our processes for tech recruitment in London involve matching skilled individuals searching for the opportunities which best suit their needs and requirements with the companies, businesses, and agencies that will make the most use of their expertise. Alternatively, we are also able to assist companies with finding the top talent solutions that they need for their businesses to thrive.
Learn more about how we can assist both companies and individuals going through the process of tech recruitment in London below.
Our Technology Division is in the best possible position to work cross-sector within multiple Technological disciplines. Many of these disciplines are held in high regard, with jobs in these disciplines holding prominent positions within some of London's top firms, agencies, and organisations. The process we use involves finding talent for a range of technology-based roles, including:
Development
Data, Analytics
AI
Robotics
Cloud
As specialists in recruitment for one of the fastest growing industries in the world, we have established particularly strong relationships with some of the most prestigious companies, businesses, and organisations that you will find in London. Many of these are related to financial services, and as a result we often work with Tier 1 banks and FinTechs to provide short and long term placements.
These are not the only sectors of industry that we place talent for, however. FS businesses, Digital Media, and Telecom companies in particular will all benefit from our services, for instance. Talent looking to move into new roles within the sectors we immerse ourselves in will also find the jobs that suit their needs most.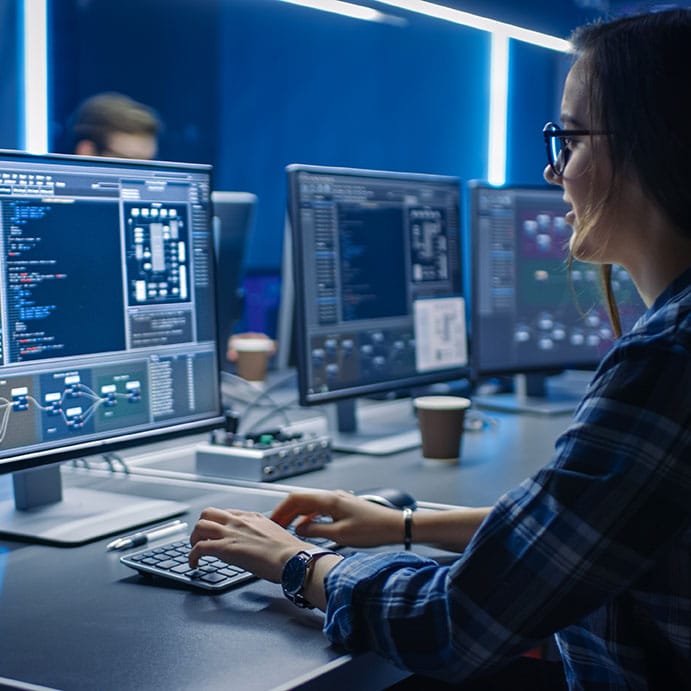 About Technology Recruitment in London
Tech recruitment is a broad spectrum, covering disciplines which vary from software development, software engineering and testing to cyber security, business intelligence, and data management. Each of these are highly skilled roles, and recruitment agencies and teams will often require candidates to have:
Degree-level qualifications
Knowledge or experience relating to different, specific programming languages
A certain number of years of experience working with enterprise computer systems
What is Expected in a Role
Talent working within tech will often find that companies expect a range of different duties to be carried out and completed. Expectations of what is to be completed within a role may also change over time, depending on the evolving needs of the organisation.
Potential responsibilities may include the planning and delivering of substantially-sized projects, such as the configuration and deployment of new servers or workstations, or the troubleshooting of issues for specific departments. The latter may also happen across an entire organisation.
As the role has the potential to change over time, a candidate may also be expected to install both new hardware and the software needed to run it, whilst providing ongoing maintenance services to minimise downtime.
The Required Qualifications
There will be specific qualifications required that allow individuals to move into and between roles in technology. Usually, these will demonstrate a candidate's abilities with hardware, software, or both. Degrees in computer science, or equivalents, are often prioritised.
If a candidate has other professional certifications, such as Microsoft Certified Professional certification, their applications may be strengthened and regarded more highly.
The Necessary Skills
Both certain hard skills and certain soft skills will be required to be considered for roles in technology. The hard skills that will often be required by recruitment firms include:
The ability to learn new programming languages
The ability to deploy hardware and install software
Data analysis
Business intelligence
Meanwhile, the soft skills that may help individual candidates to stand out from their competition include:
A keen and eager interest in new technologies
Good communication skills
Logical thinking
It is possible that some of the aforementioned hard skills will be demonstrated to a satisfactory extent through their education history and academic qualifications. They may have also obtained other, similar skills through their years of experience in their chosen sector, and demonstrated these through their professional status within their previous place of work.
Connect with Us and Find Talent for Your London Firm
We have strategically positioned ourselves at the forefront of our industry, working with like-minded organisations who recognise that the real core of any business is its people. Our goal is to be the agency of choice for all London-based firms, companies, businesses, and agencies looking to hire talent based on what they can do to make any organisation the best version of itself.
Connect with us, or our Managing Director Chris Jones, on LinkedIn and take the next step forward in finding the right talent for your firm in London today.
Whether you are an individual searching for a way forward in a new role that will let you make full use of your area of expertise, or even if you work as part of an organisation looking to hire top talent solutions in Contract and Permanent vacancies, Oakleaf Technology, Change, and Transformation will be there to assist. As one of London's leading technology recruitment companies, we are more than capable of establishing ideal working solutions for both recruiting teams and the skilled professionals they are searching for within the talent pool.
By choosing to work with us, you will discover that we are:
Meticulous networkers, and can offer a wide network of companies and agencies, as well as individuals, who are ready to connect with you
Naturally solutions-focused, and dedicated to providing diverse talent solutions that are best suited to their chosen roles within the London-based tech industry
Experienced talent spotters, finding recruitment solutions particularly within Development, Data, Analytics, AI, Robotics & Cloud
Business advisors, with years of skill at applying our advice in London and the wider UK
Both individuals and companies or agencies looking to work with specialists on their recruitment processes will also find that we offer:
Businesses the opportunity and autonomy to build up as intended
Access to clients and talent across four sectors (these being PS/FS, Public Sector, and C&I)
The support, skills, and market knowledge of a renowned and respectable tech recruitment company
No threshold commission
Above market rate basic salaries, as well as incentives and guarantees
Flexible working environments and arrangements, including hybrid working
A myriad of benefits, including tech, healthcare, and the ability to buy more holiday time if you so choose
Submit an Application
To begin searching for new talent in tech for your London firm or organisation, or to apply for the opportunities you are most interested in in the capital, send us your CV or contact us today. We will be glad to offer specialist advice and take you through an unparalleled professional recruitment process that ensures you are paired with the position or the talent that suits you best.
Some of the clients we work with...