Tech Jobs IN London & the  UK
Our Technology Division is poised to work cross-sector within a multitude of Technological disciplines. This has resulted in us being able to place a myriad of talent in Contract and Permanent Tech jobs across both London and the wider UK. Our primary goal is to ensure the best candidate for the position offered is given the opportunity, and aim to find the ideal working solution for all skilled individuals looking for jobs in Tech – both in the capital and countrywide.
We are fully prepared to place talent in a wide range of Tech jobs in London and the UK in general. As the list of these positions is lengthy, we have selected the most common positions we will be glad to help match individuals and organisations for below. This list is comprised of both technical and non-technical Tech jobs: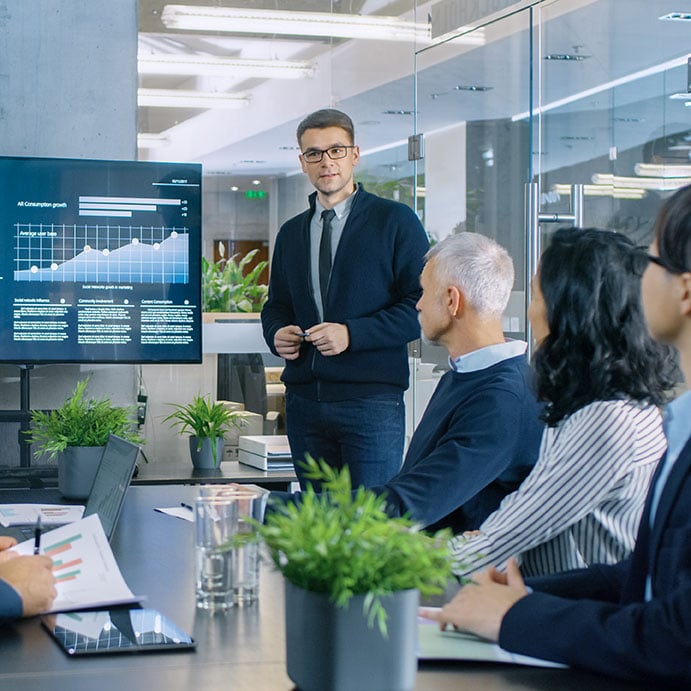 Placing Tech Jobs Across the UK
It cannot be understated how much of a high demand there is in the UK for skilled individuals who work in Tech. Tech jobs account for 5.5% of the UK economy as a whole, and workers within the industry make up 6.3% of the country's total workforce. This number is only expected to increase over time with organisations' growing reliance on technology, data, and other types of digital information. With an average of around 10,356 new jobs added to the market every year, experts feel comfortable projecting a further 15,000 jobs for 2022.
These projections demonstrate how strong the UK Tech sector is, and give an indication of how secure a position would be once an individual has been accepted for a role they've applied for. There are also implications here as to the competitiveness of the sector and the job roles within the industries covered, as well as to the high-paying salaries that are likely to be offered by organisations that want to attract top talent. This is especially true, even in times of economic downturn, for positions such as software developers.
Altogether, this should help an individual to understand that searching and applying for roles in Tech can be extremely lucrative. However, the job market is competitive and in order to ensure you are in the best possible position to be chosen for a role, you may need to meet a set of requirements. This might be having a certain degree or qualification, a certain number of years of experience in a specific field, or having a set of hard or soft skills which match the needs of the job description.
Tech is an extremely broad field and not every requirement will be the same for every position. To learn more about each of the jobs available, please see their individual pages.
Connect With Us to Find Talent
We have strategically positioned ourselves at the forefront of our industry, ensuring that we are in the best possible place to work with individuals and organisations who share our beliefs. By doing this, we have arranged our practices so that we are doing everything possible to find the top talent that can transform these organisations into the best versions of themselves.
If this is what you need for your own business, connect with us on LinkedIn or contact our Managing Director Chris Jones today.
Why Choose Us?
By choosing Oakleaf Technology, Change, and Transformation, you will soon discover that we are:
Keen networkers, with a long list of businesses, agencies, and individuals that we will be glad to connect our clients to
Solution-providers, with a complete dedication to providing diversity in talent and matching skilled individuals with their ideal roles within Tech
Experienced talent-spotters, with particular prowess in finding recruitment solutions within Development, Data, Analytics, AI, Robotics & Cloud
Specialist business advisors, who are able to apply advice for a variety of company and organisational types, including Digital Media, Telecom, and Financial Services
You will also find that we are:
Capable of providing you with the opportunity and autonomy for your business to grow as intended from the start
Ready to provide access to both clients and talent across the PS/FS, Public Sector, and C&I
Offering the support, skills, and market knowledge of a highly-respected UK recruitment agency
Not setting a commission threshold
Paying above market-rate salaries, as well as incentives and guarantees
Providing jobs with flexible working environments and arrangements, including remote working
Providing jobs with benefits such as healthcare, tech, and the chance to buy more holiday time
Submit an Application
If you are interested in moving into a career in Tech, or if you need some assistance finding talent to fill Contract or Permanent positions within your organisation, we can help. Contact us or send us your CV today and one of our specialists will be waiting to offer advice.
Some of the clients we work with...