The Role and Function of a Change Manager
Successfully implementing change management strategies will require the assistance and dedication of a change manager. If you are not familiar with this position, read on below to find out more about what a change manager is, their roles and responsibilities within an organisation, and what is required to become
What is a change manager?
A change manager, or a business change manager, is an individual within an organisation who is responsible for the planning, developing, delivering, and tracking of change management strategies and deliverables. They have a key part to play in ensuring projects, which might also be called "change initiatives", meet objectives on schedule and on budget. This is achieved by increasing employee adoption and usage of the changes that need to be made.
An organisation's change manager will be heavily focused on the "people side" of change. This means that they will be primarily responsible for the creation and implementation of change management plans and strategies that maximise employee acceptance and adoption of said changes. Meanwhile, they will also be responsible for minimising and mitigating resistance to these.
The changes a change manager is hired to implement will most often be related to changes in business processes, the company's goals, its systems and technology, job roles, or organisational structures. The individual will then work to ensure that these are put into effect, are controlled, and that employees adapt to them easily. As a result, it is hoped that the changes made will increase benefit realisation, value creation, and increase return on investment (ROI).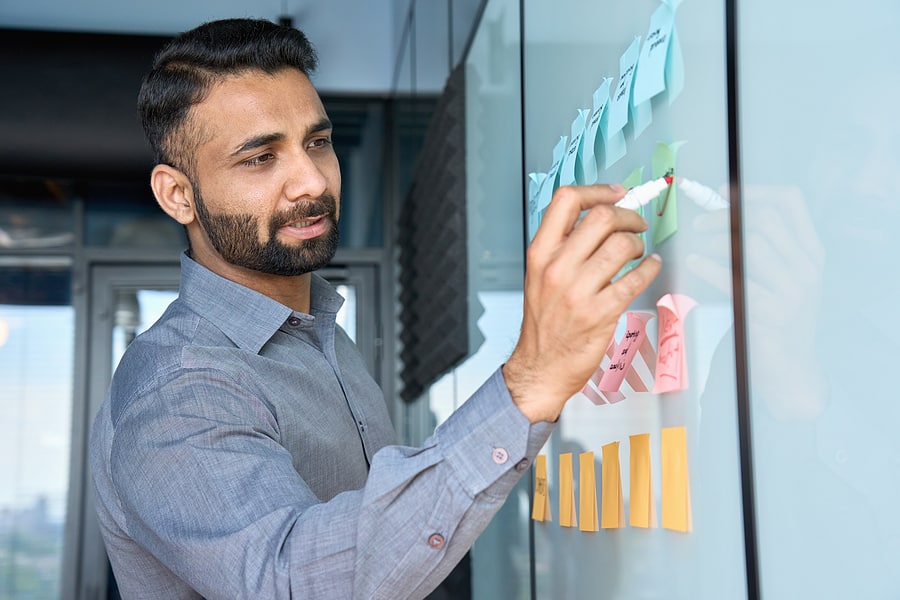 Alternative titles for a change manager
"Change manager" and "business change manager" are not the only titles available for an individual working to implement change and change management strategies. It is also possible that the same role may be called:
Change management advisor
Change management analyst
Change management consultant
Change management coordinator
Change management facilitator
Change management lead
Change management manager
Change management practitioner
Some job advertisements and descriptions may also forego use of "change management" in the title. Instead, they may refer to the role as:
Benefit realisation manager
Business readiness lead
Business transformation manager
Business transition analyst
Change realisation lead
Implementation specialist
Organisation adoption lead
Organisational readiness analyst
Strategy realisation analyst
What is the role of a change manager?
The role of a change manager can be divided into a series of stages, covering one or multiple projects:
To apply a structured methodology and lead change management activities: This involves applying a change management process and a series of tools to create a strategy that supports the acceptance and adoption of required changes.
To support communication efforts: This means supporting the design, delivery, and management of communications carried out by other managers, leaders, and senior executives.
To assess the change's impact: This will involve conducting analyses, assessing change readiness, and identifying key stakeholders.
To support training efforts: This will require the individual to provide input, to document requirements, and to support the design and delivery of training programmes for employees.
Further responsibilities which may fall under the role of a change manager, but which may vary depending on the organisation, include:
Coaching managers and supervisors
Completing change management assessments.
Consulting and coaching project teams.
Coordinating efforts with other specialists
Creating actionable deliverables for the five change management levers (the set of tools aimed at supporting individuals through change). These levers are a communication plan, a sponsorship roadmap, a coaching plan, a training plan, and a resistance management plan.
Defining and measuring success metrics and monitoring the progress of change.
Evaluating and ensuring user readiness.
Identifying, analysing, and preparing risk mitigation tactics.
Identifying and managing resistance.
Integrating change management activities into a project plan.
Managing the change portfolio.
Managing stakeholders.
Supporting and engaging senior leaders.
Supporting change management at the organisational level.
Supporting organisational design and definition of individual roles and responsibilities.
Tracking and reporting issues.
How to become a change manager
In order to become a change manager, a candidate will ideally first have obtained a degree or a Higher National Diploma (HND) in a related subject. Subjects generally considered to be related to change management include:
Business Studies
Human Resources Management
Management
Law
Psychology
Individuals seeking new opportunities as change managers can also enter the profession through change management certifications. There is a multitude of these available online or through specialist providers, but the one chosen should be accredited by the industry's examination body, APMG International. Otherwise, it is also possible to complete specialised change management practitioner courses. These are particularly beneficial for those who already have a qualification in change management and wish to develop their skills.
Skills and attributes associated with change managers
Alongside particular qualifications and certifications, candidates for the role of change manager may also be expected to display certain skills and attributes that demonstrate their capability. These skills and attributes may include:
A solid understanding of how people go through change and the change process.
Acute business acumen, with detailed knowledge of the business environment and an understanding of organisational challenges.
An ability to clearly articulate messages to a wide variety of audiences.
An ability to establish and maintain strong relationships.
An ability to influence others in order to move towards a common vision or goal.
An ability to problem solve and to identify the root causes of problems.
Being a team player, and able to work collaboratively with and through others.
Being able to work effectively at all levels within an organisation.
Being flexible and adaptable, and able to work in ambiguous situations.
Being forward-looking and thinking, with a holistic approach.
Being organised, with a natural inclination towards planning strategy and tactics.
Being resilient, tenacious, and having great perseverance.
Exceptional communication skills, especially those related to marketing and communication, which should be demonstrated in both written and verbal capacities.
Experience and knowledge of change management principles, methodologies, and digital and nondigital tools that can be utilised to ensure its success.
Experience with large-scale organisational change efforts.
Familiarity with project management approaches, tools, and the phases of the project lifecycle.
Having excellent active listening skills.
Submit an Application and facilitate Change
To find skilled professionals who will perfectly fill the vacant change management role in your organisation, or to apply for a change management job if you are interested in finding new opportunities, send us your CV or contact us today. Our Change Team will be fully prepared to offer specialist advice and an unparalleled recruitment process that ensures all organisations have the best in-house capability and all talent is placed into the project manager role which suits them completely.
Our resources section provides information, guides and advice on the technology industry.